Torbay labelled the English Riviera, enjoys some of the best weather in Britain, and is a place you will want to return to year after year. Its geography means that the sheltered Bay is a haven for boating enthusiasts and sun worshippers alike, while it also boasts areas of great natural beauty, bustling towns, and places of cultural and historic interest. Many of Torbay's beaches have won blue flags and other awards, they also give access to various watersports including diving, windsurfing, canoing, yachting, water skiing and of course swimming.

Torbay comprises three towns - Torquay, Paignton, and Brixham - each with their own distinct character with something to appeal to everyone. Torquay, the largest, is the main shopping centre with active nightlife, clubs and theatres, with famous (if smaller beaches) such as Babbacombe. It has an excellent leisure pool at the Riviera Centre with good children's facilities which ensure year-round entertainment. There are gardens, Cockington Village (a traditional thatched village tucked away from the main roads), historic buildings such as Torre Abbey, as well as level seaside walks, the pier and teashops for the more sedate.

Paignton is a typical seaside resort with two long beaches and pier with the obligatory fish and chips and ice cream shops to complete the experience. The award winning Paignton Zoo is much more than a traditional zoo, with a world-renowned breeding programme and animals living in near natural environment including orangutangs, gorillas etc.

Brixham is an historic fishing village, with its picturesque harbour tucked into a sheltered valley on the Southern side of Torbay. It has an excellent marina and sailing facilities which recently hosted the only European stage of the 'Around Alone' international yacht race. Although there is a choice nearby of both sandy and pebbly beaches the most popular location is the free Shoalstone seawater swimming pool.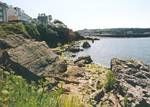 In addition to Torbay itself there are numerous exciting and beautiful placesa to visit just a short distance away. These range from the famous maritime towns of Dartmouth and Salcombe to the small picture postcard villages of nearby Dartmoor.